Golfers have long-enjoyed playing Robertson County's true golf gem, The Legacy. Since opening in 1996, the 6,755-yard course at Legacy has provided a fun and challenging Tennessee golf experience for thousands of players. Designed by PGA Hall of Fame player Raymond Floyd, the course at The Legacy is truly a gem.
Course Statistics
Holes: 18
Par: 72
Course Record: 63 Jesse Smith & Chris Thompson
(Web.com Tour Qualifier) June 13, 2016 Championship Tees
Course Record: 60 – Justin Walker (Tournament Tees)
Course Record: 65 – Burl White (Club Tees)
Course Architect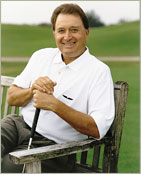 Certified Audubon Cooperative Sanctuary
The Legacy is certified as Cooperative Sanctuary by Audubon International.
The course is committed to protecting our local environment, conserving natural resources, and providing wildlife habitats.
Score Card
Tees
Rating
Slope
Yardage
Men's Ratings & Yardages
Blue
72.5
137
6,776
Orange
71.0
131
6,450
White
69.4
125
6,133
Gold
67.0
117
5,618
Red
63.6
107
4,831
Ladies Ratings & Yardages
Gold
72.6
131
5,618
Red
68.2
118
4,831
Front 9
| | | | | | | | | | | |
| --- | --- | --- | --- | --- | --- | --- | --- | --- | --- | --- |
| Hole | 1 | 2 | 3 | 4 | 5 | 6 | 7 | 8 | 9 | OUT |
| Blue | 522 | 406 | 189 | 364 | 436 | 174 | 498 | 404 | 405 | 3398 |
| Orange | 522 | 359 | 141 | 364 | 399 | 146 | 498 | 376 | 405 | 3210 |
| White | 482 | 359 | 141 | 341 | 399 | 146 | 457 | 376 | 381 | 3082 |
| Gold | 456 | 331 | 123 | 307 | 371 | 112 | 421 | 357 | 361 | 2839 |
| Red | 415 | 241 | 96 | 284 | 332 | 99 | 387 | 310 | 245 | 2409 |
| Par | 5 | 4 | 3 | 4 | 4 | 3 | 5 | 4 | 4 | 36 |
| Men's Handicap | 15 | 11 | 13 | 17 | 1 | 9 | 5 | 3 | 7 | — |
| Ladies' Handicap | 7 | 9 | 17 | 11 | 3 | 15 | 1 | 5 | 13 | — |
Back 9
| | | | | | | | | | | | |
| --- | --- | --- | --- | --- | --- | --- | --- | --- | --- | --- | --- |
| Hole | 10 | 11 | 12 | 13 | 14 | 15 | 16 | 17 | 18 | IN | TOTAL |
| Blue | 416 | 415 | 188 | 394 | 529 | 360 | 359 | 167 | 550 | 3378 | 6776 |
| Orange | 416 | 357 | 171 | 394 | 529 | 360 | 359 | 145 | 509 | 3240 | 6450 |
| White | 382 | 357 | 171 | 369 | 479 | 333 | 306 | 145 | 509 | 3051 | 6133 |
| Gold | 349 | 321 | 130 | 348 | 438 | 316 | 279 | 130 | 468 | 2779 | 5618 |
| Red | 287 | 277 | 105 | 296 | 417 | 285 | 250 | 97 | 408 | 2422 | 4831 |
| Par | 4 | 4 | 3 | 4 | 5 | 4 | 4 | 3 | 5 | 36 | 72 |
| Men's Handicap | 2 | 6 | 10 | 14 | 4 | 18 | 16 | 8 | 12 | — | — |
| Ladies' Handicap | 2 | 8 | 14 | 16 | 4 | 18 | 10 | 12 | 6 | — | — |